Sun Mountain distributes a variety of architectural hardware components from leading suppliers. Hardware includes locksets, hardware for double doors, hinges, climate control for exterior doors, barn door hardware, pocket and folding door hardware, bi-fold and bypass hardware, clavos, and wrought iron grilles.
Numerous options are available, matching every design and architectural style. Contact Sun Mountain at 888.786.6861 or sales@sunmountaindoor.com to request a free, no-obligation quote.
To learn about Sun Mountain's hardware options, click the links below:
Locksets
Securing Double Doors
Hinges
Climate Control for Exterior Doors
Barn Door Hardware
Pocket Door Hardware
Folding and Sliding Door Hardware
Bi-fold and Bypass Hardware
Clavos
Wrought Iron Grilles
Custom Hardware Options
LOCKSETS
Sun Mountain distributes locksets from Rocky Mountain Hardware®, Ashley Norton, Emtek®, and other leading suppliers. Three basic types of locksets are available—handles, knobs, and levers. All levers must be specified for handing. Handles are often combined with knobs or levers on the inside of the door, and these combinations are called "handlesets." Numerous styles are available to match the design of every home and hardware suppliers typically present lockset collections by architectural style, such as Traditional, Craftsman, Modern, and Rustic.
INTERIOR LOCKSETS
Interior handles, knobs, and levers are available with two types of mechanisms—spring latch (or cylindrical) and mortise case. The majority of interior door locksets sold in the U.S. are spring latch. Interior mortise case sets are more expensive and can be found in the highest-end homes.
Interior locksets are further divided into four functions:
Dummy sets have inoperable knobs or levers on one or both sides of the door, and are typically used in double door units in conjunction with ball or roller catches, or flush bolts.
Passage sets are non-locking with operable handles, knobs, or levers. They are typically used on doors that do not require security or privacy, such as closets, laundry or utility rooms, pantry, or mechanical rooms.
Privacy sets have operable handles, knobs, or levers but can be locked by a push button or thumb turn on the interior side of the door. They can be unlocked by an emergency release key from the exterior side. Privacy locksets are typically used on bedroom and bathroom doors.
Entry locksets are like privacy hardware, but are keyed on one side of the door. Any handle, knob, or lever with a key lock is called entry hardware. Entry hardware must be specified for handing. Deadbolts are often included with entry locksets.
EXTERIOR LOCKSETS
Exterior locksets are entry sets, often with deadbolts, and are available with three types of mechanisms—spring latch (or cylindrical), mortise case (also called "mortise lock"), and multi-point.
With the spring latch lock, the door handle (the handle, knob, or lever) is separate from the deadbolt cylinder and requires entry via a key inserted into both the deadbolt and the keyed handle.
A more elegant and secure type of lockset is the mortise case, typically found in higher-end homes. This mechanism integrates both the latching and deadbolt mechanisms into a single cartridge-style lock, encased in a metal box and protected by a metal plate where the latch and deadbolt protrude. The cartridge is inserted in a "mortise" or hole cut into the door edge, and both the latch and deadbolt are operated by a single key. Typically a metal strike plate the full height of the cartridge (called the "box keep") is mounted on the strike side jamb, to receive both the latch and deadbolt. The metal plate and box, and the large strike plate, provide security against prying on the door edge. Mortise case locks also feature a special interior emergency release that allows operation of the latch and deadbolt simultaneously from inside the home, in the event of a fire or other emergency.
Multi-point locks contain a mechanism that latches the door at several points over the height of the door, instead of only at a single point near the handle. Multi-point locks are recommended for very tall (8′ 0″ or 96″ and over) exterior doors, especially for double doors. Sun Mountain distributes Trilennium™ multi-point locks from Endura®, with a choice of entry handlesets from suppliers such as Rocky Mountain Hardware® and Emtek®. An additional fee is charged to mortise the door edge and jamb for the multi-point system.
TYPES OF METAL
Door handles, knobs, and levers are most commonly manufactured in three metal materials:
Bronze is typically offered in two finishes—silicon bronze (an alloy of copper, silicon, and zinc), and white bronze (an alloy of copper, manganese, nickel, and zinc). Bronze will oxidize over time, changing color, sheen, and texture. This "living finish" is referred to as the patina. No cleaner, wax, or polish can stop the oxidation process, but a high-quality clear floor wax can protect the finish. Change in bronze patina is not covered under warranty by any manufacturer, except for a few companies that offer a "lifetime" finish.
Brass is also a common metal used in the production of handles, knobs, and levers. Brass is an alloy of copper and zinc. After production, it is generally coated with a lacquer finish to prevent tarnishing. The lacquer coating can preserve the bright finish of the metal for up to several years when the hardware is exposed to outside elements, and indefinitely when positioned indoors. After the lacquer has deteriorated, it is recommended that the lacquer be removed and the hardware be regularly polished to maintain a bright finish. Un-lacquered brass will weather more attractively than brass with deteriorated lacquer. When freshly polished (and un-lacquered), brass is similar to gold in appearance, but becomes a reddish color with ongoing exposure to the outside elements.
Steel is less common in the production of handles, knobs, and levers than either bronze or brass. However, steel is an excellent material for a weathered, rustic appearance, when the hardware will not be exposed to outside elements. When exposed to the elements without a protective coating, steel will rust and deteriorate quickly. For this reason, steel locksets are often powder-coated for protection.
Current catalogs for Sun Mountain's primary lockset suppliers are shown here (click to view or download). Contact Sun Mountain at 888.786.6861 or sales@sunmountaindoor.com to request a free, no-obligation quote. As a preferred distributor, Sun Mountain offers significant discounts off list prices.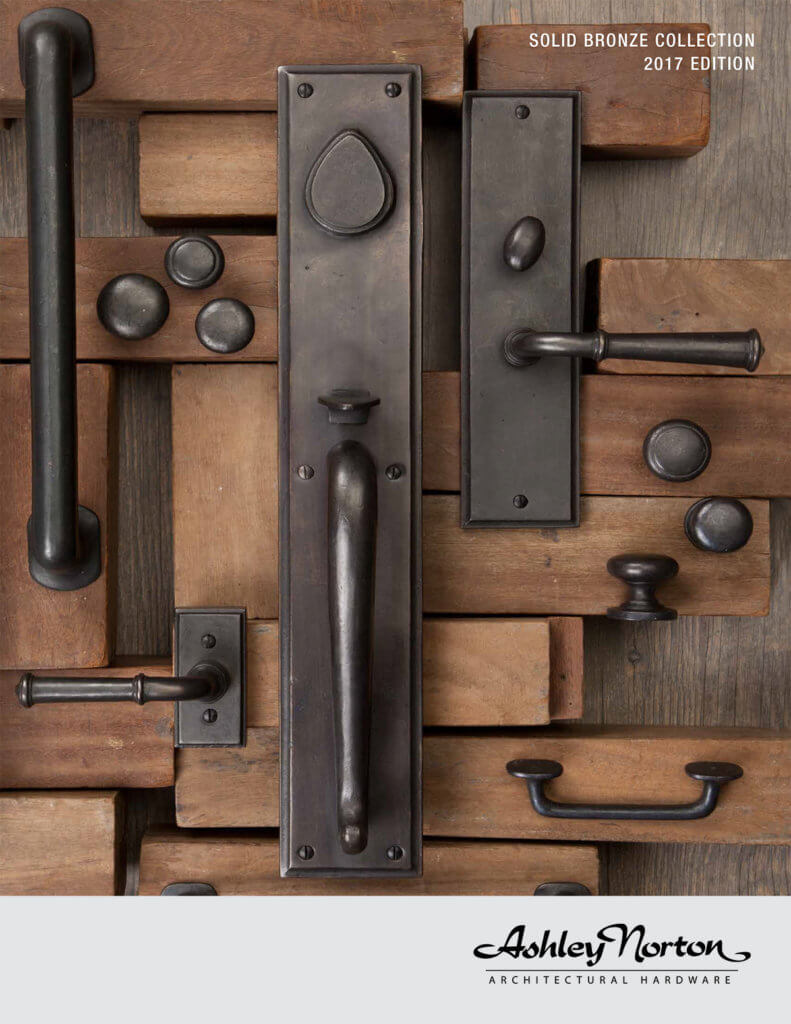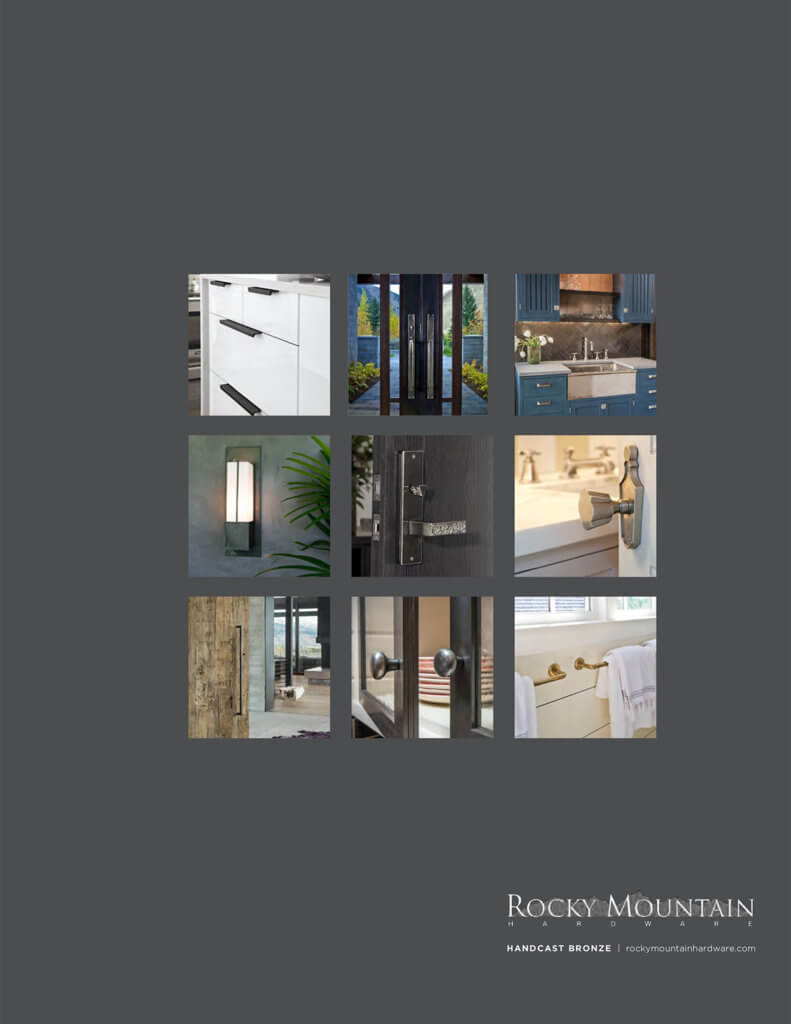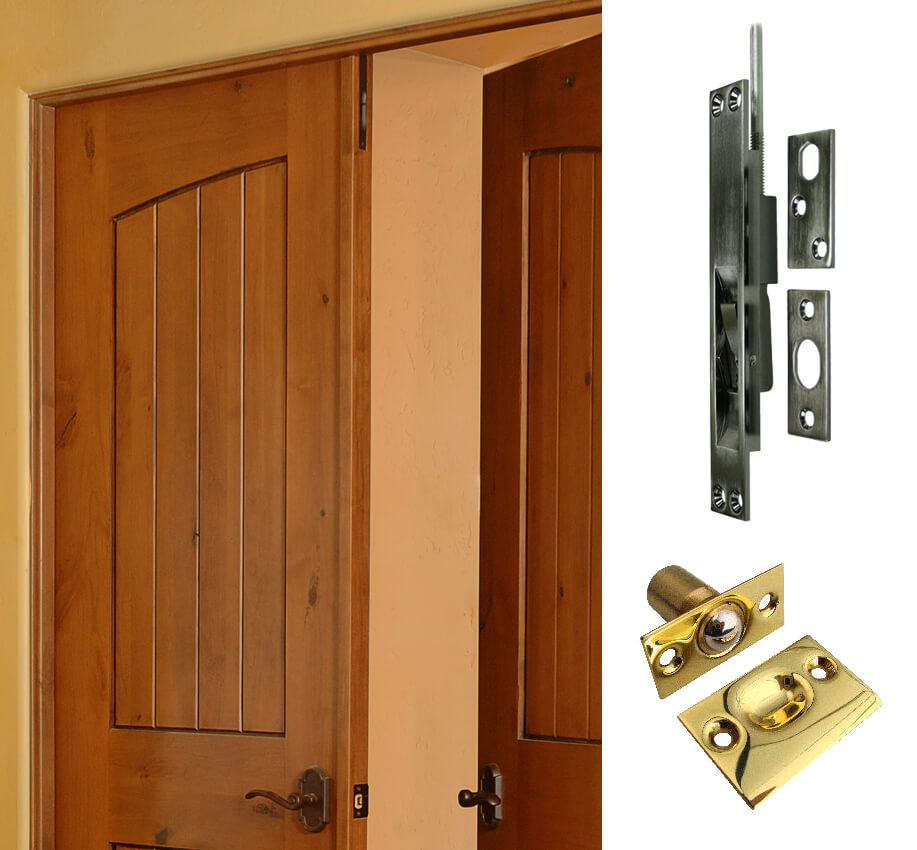 Double door hardware is available in two styles. First, for exterior doors or in applications where privacy is desired, such as the master bedroom, one door is typically designated as "active" with some type of locking hardware. The other door is designated as "inactive," and usually has a T-astragal attached for privacy and security. The inactive door is typically mounted with flush bolts (or alternatively, surface-mount bolts), which can be unlatched to open both doors wide. An extended flush bolt is recommended for tall double doors, over 7′ 0″ (or 84″) in height. This system lowers the flush bolt latch to a reasonable height, for easier operation. Sun Mountain provides flush bolts at no additional cost on pre-hung double doors, including an extended top flush bolt standard on all 7′ 0″ or higher pre-hung double doors.
For applications where privacy is not an issue, such as an entrance to a closet, neither door is designated as active and both doors are held closed with the use of ball catches or roller catches mounted on the tops of the doors. In this application, both doors can be easily and quickly opened or closed. Sun Mountain includes ball catch hardware at no additional cost on pre-hung doors designated as ball catch.
PIN AND BARREL HINGES
Sun Mountain provides high-quality square-cornered, ball bearing, pin and barrel hinges standard on all pre-hung 1-3/4″ and thicker doors. These hinges are available in a choice of nine metal finishes, included in the price of pre-hanging at no additional charge. If standard hinge styles and colors do not meet desires, Sun Mountain can special order hinges from leading manufacturers such as Rocky Mountain Hardware®, Hager®, Emtek®, and others. Sun Mountain will always ensure that hinges are sized appropriately for the door size and weight, and that the pre-hung doors are mortised and machined for perfect hinge fit.
HIDDEN HINGES
Sun Mountain distributes "hidden" hinges from leading suppliers such as SOSS® and Tectus®. These hinges originated from the cabinet industry, with the hinge mechanism recessing into the door edge and jamb, with no visible pin and barrel on the outside of the door. Hidden hinges are sold separately (not included in the price of pre-hanging), with an additional machining fee for the required mortise. Jambs must be thicker for hidden hinges to accommodate the recessed mechanism—with a minimum 1-1/4″ thickness, versus the standard 3/4″ jamb thickness.
PIVOT HINGES
Pivot hinges attach at the top and bottom of the door, installed several inches from the door edge. In addition to the unique aesthetic look and function, these hinges allow for the installation of much wider doors than supported by traditional pin and barrel hinges. Sun Mountain offers pivot hinges from leading suppliers.
CLIMATE CONTROL FOR EXTERIOR DOORS
Sun Mountain distributes a selection of high-quality door sills, sweeps, and weatherstrip, generally for exterior door applications. For pre-hung exterior doors by Sun Mountain, these hardware items are included with the unit at no additional charge.
Standard sill, sweep, and weatherstrip options include:

Adjustable Oak Sills. Sun Mountain distributes Pemko aluminum door sills, with an Oak threshold that can be adjusted to create a secure seal to the bottom of the door. Both inswing and outswing adjustable sill options are available.
Wood Sills. Sun Mountain offers non-adjustable wood sills for openings with limited exposure to the elements.
ADA Sills. Pemko ADA sills have a non-adjustable threshold that is thinner than traditional sills, allowing for wheel chair access through the opening. Sometimes called "saddle" sills, these thresholds are ADA compliant and can be used in any opening where an adjustable sill is not desired.
L-Shaped and Surface Mount Sweeps. Sun Mountain's L-shaped and surface mount sweeps include a drip cap to direct water away from the door. L-shaped sweeps are provided on all 1-3/4″ thick exterior doors. Surface mount sweeps are provided on all 2-1/4″ thick or thicker exterior doors. If installed on-site, Sun Mountain recommends sealing the top edge of the sweep with a bead of silicone at time of installation, to prevent moisture from seeping between the sweep and the door.
Weatherstrip. Q-Lon® Weatherstrip is a durable foam rubber material used to seal the side and top edges of an exterior door, to limit air transfer and exposure to outside elements. The weatherstrip is usually mounted in a kerf, or slot, cut in the stop of the rabbeted jamb used for exterior doors.
In addition to these industry-leading standard solutions, Sun Mountain can source other sill and sweep options to meet nearly any need. For example, hydro sills are recommended for double exterior doors, and are available at an additional charge. Sun Mountain also offers optional automatic boor bottoms, which are mounted into a mortise on the bottom edge of the door. Automatic door bottoms recess into the door when open, and drop down to the sill to create a tight seal when the door is closed. This mechanism is particularly useful with non-adjustable wood or ADA sills.
BARN DOOR HARDWARE
Sun Mountain distributes sliding barn door hardware from leading suppliers, including both Rustic and Modern designs. Rustic barn door hardware typically includes a powder-coated flat bar and large roller wheels strapped to the top face of the door stiles. Modern barn door hardware typically includes a round stainless steel bar, with rubberized stainless steel wheels mortised or face mounted to the top of the door.
POCKET DOOR HARDWARE
Pocket doors were first created over 100 years ago, and were a popular feature in many Victorian-style homes in the late 1800s and early 1900s. A pocket door slides on a hardware track inside the adjacent wall structure, and recesses into the edge of the wall when open. Though pocket doors fell out of design favor for many years, they are now making a resurgence, helped by new and improved (smooth and quiet) hardware systems. Sun Mountain distributes both pocket door wall frames and hardware for these systems.
FOLDING AND SLIDING DOOR HARDWARE
Sun Mountain distributes industry leading folding door systems from Centor®. These systems allow full size and weight doors, manufactured by Sun Mountain, to slide and fold in an "accordion" fashion, creating entire wall openings and seamless transitions between rooms—including between indoor and outdoor spaces.
BI-FOLD AND BYPASS HARDWARE
Bi-fold doors are door pairs, hinged in the middle, that slide on a track and open and close in an "accordion" fashion. Bypass doors are double doors that open and close by sliding side-by-side on a metal track. Bi-fold and bypass doors are most often used for interior closet or pantry door applications. Sun Mountain includes track hardware with the price of these doors.
Clavos are decorative nails used to accent doors and other millwork, to create or enhance an antique or Old World look and feel. Clavos simulate bolts used to secure Old World mortise and tenon joinery doors. Sun Mountain distributes spin-cast zinc-alloy clavos, with a roofing nail for secure and easy placement. Clavos are powder-coated with a lifetime no-rust guarantee, and have a "hammered" texture providing a distinctive aged look. Available colors include bronze, black, and pewter. Available sizes range from 1/2″ to 2″ diameter or square. Clavos are easily installed with a pre-drilled pilot hole, and can be secured with epoxy or other multi-use adhesive.
WROUGHT IRON GRILLES
Wrought iron grilles add a distinctive Old World touch to a wood door. Grilles are attached on the door or sidelites providing security for glass. Sun Mountain offers grilles in several distinctive styles to match the door or architectural design. The grilles are black in color and are powder-coated for durability. Speakeasy doors typically include a small grille, while larger grilles are normally used over glass panes on the door or sidelites. Sun Mountain can also source custom iron work to meet unique needs.
CUSTOM HARDWARE OPTIONS
Sun Mountain offers additional hardware options to create a one-of-a-kind look for the home. For example, custom strap hinges can create or enhance a Southwestern or Old World style. In addition, steel or bronze metal inlays or overlays can be added to doors to create a contemporary masterpiece. Contact Sun Mountain at 888.786.6861 or sales@sunmountaindoor.com to request a free, no-obligation quote for these custom hardware items.