It's been an interesting year, with many people spending much more time in—and focus on—their homes. And we've noticed some definite trends in the door department. What trends do we anticipate will continue well into the new year?
1. Creative Stile and Rail Door Designs
Doors with traditional stile-and-rail-construction aren't necessarily "typical"—and that is evident now more than ever. Creative designs with unexpected panel, lite, and rail layouts are making statements across the country.
From left: 10-panel, 1-lite door (SQ-1001-D012) in Select Hickory with Clear Coat finish; 7-panel, 4-lite door (SQ-0704-D047) with diagonal rail design, made of Select Alder and finished in Redcliff Mountain glaze; 2-multi-level-panel door (SQ-0200-D057) with oversized kick rail, made of rift-sawn Select White Oak in Poudre River glaze; 7-panel, 3-lite door (TF-0703-D033) with top rail flat arch in Red Oak (shown unfinished); 7-panel Victorian-inspired design (SQ-0700-D065) made of Select White Oak and finished in Mocha Stain; 7-panel door (SQ-0700-D135) with interlocking circle rails in Knotty Hickory, finished in Poudre River glaze.
---
2. Custom Flush Entry Doors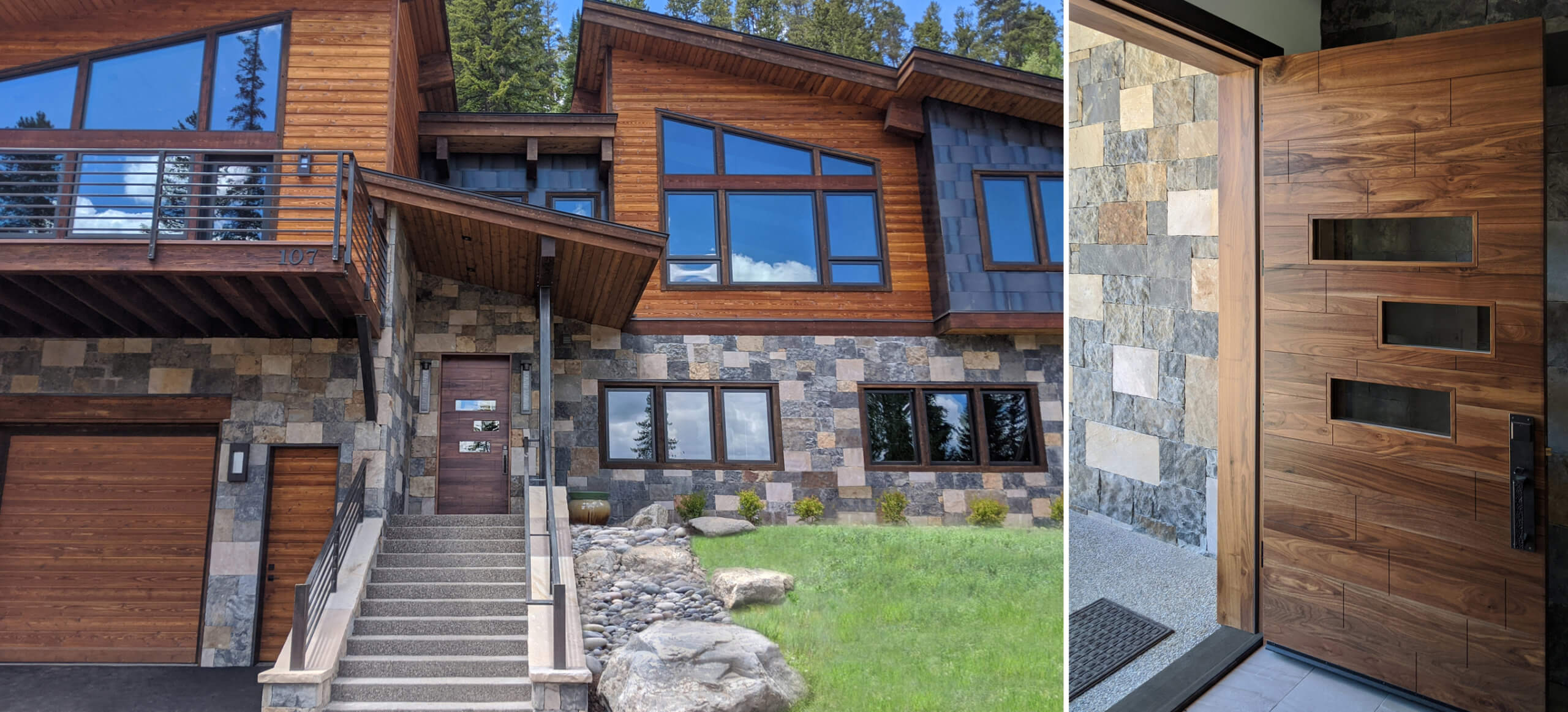 Flush entry doors—customized with glass, metal inlays, kerfs, grain direction, and finish—exploded this year! The perfect complement to a Modern, streamlined aesthetic, these doors have never been more popular.
From left: flush door (SQ-0000-F138-10W) made of rift-sawn Select White Oak (horizontal grain), with custom finish and stainless steel metal inlay; 5-lite flush door (SQ-0005-F005) in Select Alder with Espresso stain; flush door (SQ-0000-F072-4W) made of Select Walnut (horizontal grain), finished in Clear Coat, with three black powder coated metal inlays; 1-lite flush door (SQ-0001-F010) made of Select Hickory (horizontal grain), finished in Winter Rye stain, with four horizontal double kerfs.
---
3. Modern Glass Doors
The horizontal glass "slot" door was definitely a standout in 2020. This very contemporary door style is used for both interior and exterior applications—an effective way to provide a measure of privacy while allowing light to filter into the room. The door on the left is made of Hard Maple and finished in Winter Rye Stain; the door on the right is made of Select Walnut, finished in Roan Creek glaze, and features a matching sidelite.
---
4. Applied Moulding
Traditional homes will never go out of style. A current trend is to pair classic architecture with an edgy contemporary style by adding streamlined furnishings. For those who prefer a classic "canvas," simple door designs with an added detail of applied moulding is a timeless element that continues to make a strong showing.
---
5. Gray Colors (Showing the Natural Wood Grain)
Last year, Sun Mountain introduced a palette of standard gray stains and glazes. Ranging from light-stone-gray to near-black tones, and in blue-tinged and dusty-muted hues, these colors have been prominent throughout the year, and are being applied to doors in all architectural styles. Here is the palette shown on White Oak (a popular choice of wood species).
---
Have a safe and healthy 2021!