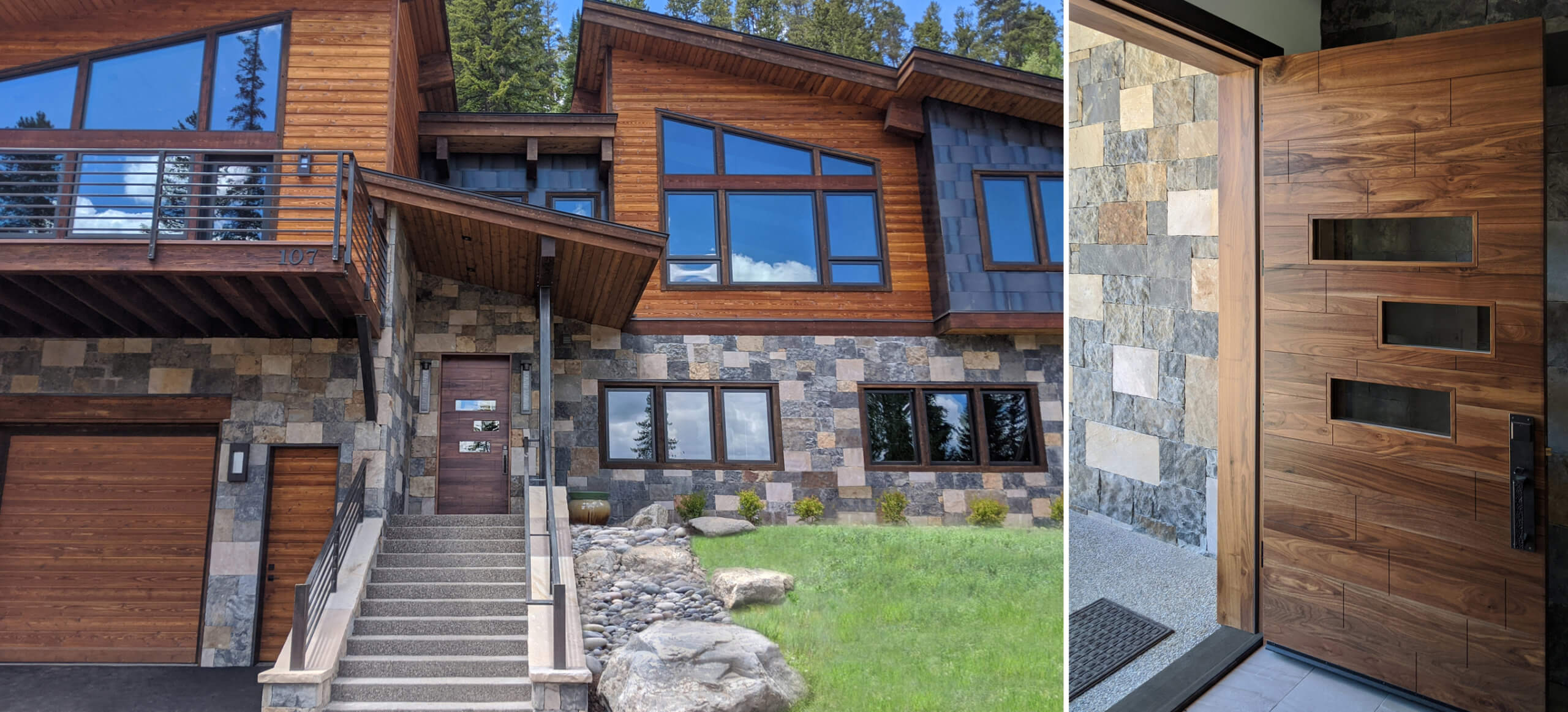 Sun Mountain manufactures extraordinary flush (or flat-surfaced) doors that can be used in exterior applications.
Flush doors produced by other manufacturers usually cannot be used as exterior doors because thin surface veneers do not perform well when exposed to the elements in an outdoor environment. Sun Mountain's flush exterior doors, however, are manufactured with Laminated Strand Lumber (LSL) core material, mounted in a solid wood frame. The surface veneer is 1/4″ thick and is attached to the core and frame with an exterior-grade waterproof adhesive. These construction methods allow the door to be used in an exterior application, as well as be fully covered under Sun Mountain's industry-leading door warranty.
The unique 3-lite flush entry door featured above and below (left) is a new Sun Mountain design (SQ-0003-F010). At 3-1/2′ wide and 8′ tall, this entry door is made of Select Walnut (with horizontal wood grain), finished in Sun Mountain's Oaknut stain. The door's flush surface contains horizontal and vertical kerfs cut in a staggered brickwork pattern. The three lites of differing widths are also arranged in a staggered design.
This beautiful entry door is at home in Breckenridge, Colorado.
Another nice example (above right) of a flush exterior door recently built by Sun Mountain is this 4′ wide by 7′ 9″ tall door made of Select Walnut and finished in Clear Coat (design SQ-0000-F072-4W). It, too, features horizontal grain, but also includes three black powder coated metal inlays. The door, headed to Evergreen, Colorado, will be mounted on "Pivot" hinges—a system of pins attached at the top and bottom of the door that allows for a unique swinging function.