Victorian architecture actually refers to a number of different styles popularized during the reign of Queen Victoria—generally during the period of the mid-1800s to the start of the 1900s. It incorporates Gothic revival, Italianate, Queen Anne, and Stick styles.

Victorian homes are often large—two or three stories—with wood or stone exteriors. Their shapes are typically complicated and asymmetrical, with steep, imposing rooflines and gables that face in different directions. Decorative trim, sometimes called "gingerbread," may embellish the exterior, and scalloped shingles arranged in elaborate patterns may decorate the exterior surfaces. Large wraparound porches are common, and some higher-end Victorian homes include round or square turret towers.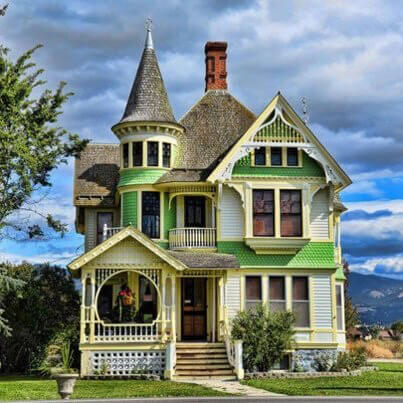 One of the most familiar images of Victorian-style homes in the U.S. is that of the "painted lady." This term, first used in the 1970s, refers to Victorian homes painted in three or more colors in order to highlight their architectural detail.
Double entry doors, wherever feasible, were preferred in Victorian-era homes. Often, these were met with a matching second set of double entry doors to form the home's vestibule. As glass became less expensive more doors included lites; transoms over both interior and exterior doors became popular. The number of door panels varied—from simple two-panel constructions to whimsical arrangements of multiple and differently shaped panels. The more simply designed doors were often embellished with decorative carving, paint, or applied mouldings.
While this door is a simple 2-panel design, the circle lock rail (similar to the door in the 1869 house plans shown above) and accent of circular applied moulding make it unique. This beautiful Victorian-style door is made of select (knot-free) Alder with Light distress, and is finished in a custom color-matched glaze. At nearly 8-feet tall, this door graces the entry to a home just outside Boulder, Colorado.
Made of knotty Walnut with shelf, base kick, and SM4 and SM78 mouldings applied in a diamond pattern, this set of double doors is another striking example of Victorian style.
Even though you may not live in a rambling 150-year-old Victorian masterpiece, you can certainly borrow some of the charm and style from that era with thoughtful and imaginative architectural detail.
To request a free, no obligation quote, contact Sun Mountain at 888.786.6861 or sales@sunmountaindoor.com.